by Mike Godsey, Mike AT ikitesurf.com
If you ply the waters of the west coast of the USA from The Gorge to Punta San Carlos, Baja Norte you know the winds of the North Pacific High intimately since they are the critical part of your summer wind machine. So you already know all about the North Pacific High and the only thing puzzling you about the North Pacific High is why and how it has impacted Baja's East Cape winds this winter when it normally is not a major player.
But if you live east of the Sierra Nevada to Europe you are wondering why there is so much mention of the North Pacific High this season.
So here is a brief introduction to the North Pacific High. And if you want more detail you can explore this link.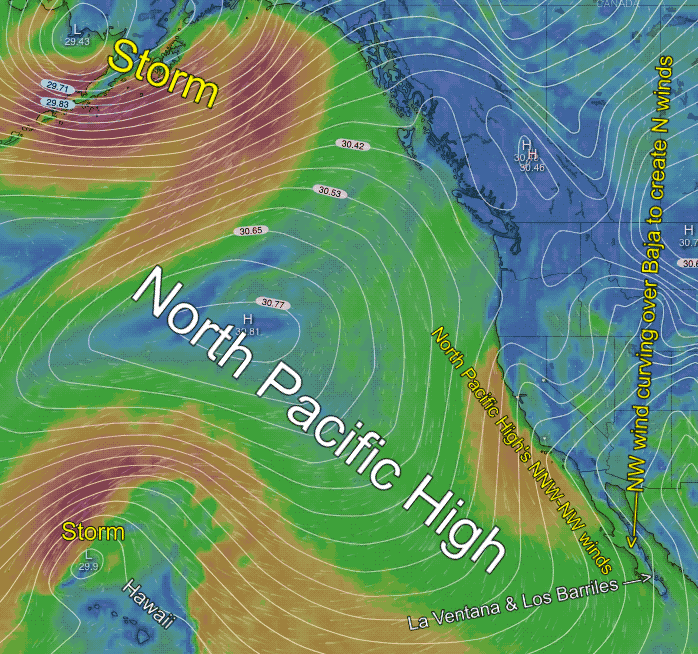 Looking at this animation it is easy to find the North Pacific High. Notice how this dome of high pressure air has winds spiraling around it in a clockwise fashion. Unlike the high-pressure zones that sometimes appear in the Great Basin/4 corners zone to produce El Norte winds the NPH does not move steadily west to east and then disappear. Rather the NPH is a semi-permanent fixture in the north Pacific. It moves more southward in the winter and more northward in the summer while expanding and contracting in response to other weather events.
Frequently in a El Nino year the North Pacific High is larger and moves closer to the west coast of Baja and the USA. Notice in the model animation of the North Pacific High today Monday, February 18, 2019 how the NPH has isobars tight along the west coast of California and Baja. This is creating strong N to NW winds in that region.
Now look carefully and you can see that some of that wind flows over the Baja Peninsula into the Sea of Cortez as NW to NNW wind. Since that is a side offshore direction for Baja's East Cape launch sites we need good heating in our inland valleys to curve that wind into N. wind that fills into the beaches.
Over the next few days a lobe of the North Pacific High slides over Baja and our winds gradually weaken.
Now notice how there is very little wind in the center of the North Pacific High.