Fall type northerly winds return to the west coast.
by Mike Godsey, mike@iwindsurf.com
In part one of this blog, we saw that during recent days the North Pacific High had disappeared from the eastern Pacific depriving the west coast of its northerly winds.
This 2nd. part of the blog shows the return of the North Pacific High and touches on why the winds will not be as strong as you might expect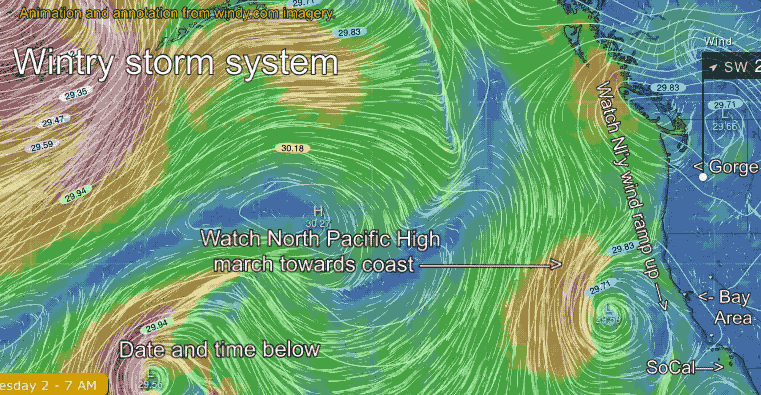 . Looking at this animation of the eastern half of the Pacific first note the time and day at the bottom of the animation. Then find your venue from the Gorge to Southern California.
Next, notice how small the North Pacific High is as the animation starts on Tuesday and how weak the winds are along the west coast. Also, note the presence of low-pressure systems off the Gorge and California.
As the days progress from Tuesday through Friday the North Pacific High enlarges and marches towards the west coast. This causes NW winds to ramp up on the California coast. These winds will probably peak Saturday.
Lastly, note how the isobars of the North Pacific High begin to lean inland into the Pacific Northwest and far Northern California on Friday. This causes the North Pacific High's surface NW winds to turn a bit NNW. This direction makes it harder for the ocean winds o curve into the Bay Area and Southern California. It also encourages the formation of eddies near the Bay Area and Southern California. So despite the return of the North Pacific High many sites may not see reliable winds.
And the Gorge? The pesky low pressure stays in place Friday but the winds should ramp up some on the weekend as the low departs. For all these venues the shorter fall days mean less heating in the valleys to the east so the pressure gradients are not as strong.