by WeatherFlow meteorologist Shea Gibson
For SAL-ty Atlantic Part I of this series, please see: https://blog.weatherflow.com/sal-ty-atlantic-the-saharan-air-layer/
For SAL-ty Atlantic Part III of this series, please see: https://blog.weatherflow.com/sal-ty-atlantic-part-iii/
So far, the Atlantic Season has seen two named storms: CAT 2 Hurricane Arthur –  which formed off the SE coast and made landfall over coastal NC… and Hurricane Bertha, which barely stumbled out the ITCZ (Intertropical Convergence Zone) gasping for moisture, crossed the Lesser Antilles/Puerto Rico/Dominican Republic/ Turks and Caicos, and curved up towards the SE coast and hooked away from land as it finally bombed out as a Category 1 and said its goodbye.
The ITCZ has continued to be heavily impacted this year by the Saharan Air Layer (or "SAL"), which sends dust off the western African coast to lower and mid levels of the atmosphere. This dry, dusty more stable air rides just along the northern ITCZ boundary and has been the downfall of many tropical waves coming off the coast by weakening cyclogenesis, or dissipating formation of convective storms around the centers of Low pressures.  Moisture contents have been low for feeding into potential candidates. This coupled with a few areas of mid/upper level shearing environments and below normal Tropical Atlantic sea surface temps, we just aren't seeing much activity this year…yet.
This was taken by NASA (Earth Observatory) using Aqua MODIS on June 24, 2014 just to give you an overhead perspective of how far out the dust plume reaches – all the way to the South America, Caribbean and the Bahamas – and even into some parts of lower USA.  http://earthobservatory.nasa.gov/IOTD/view.php?id=83966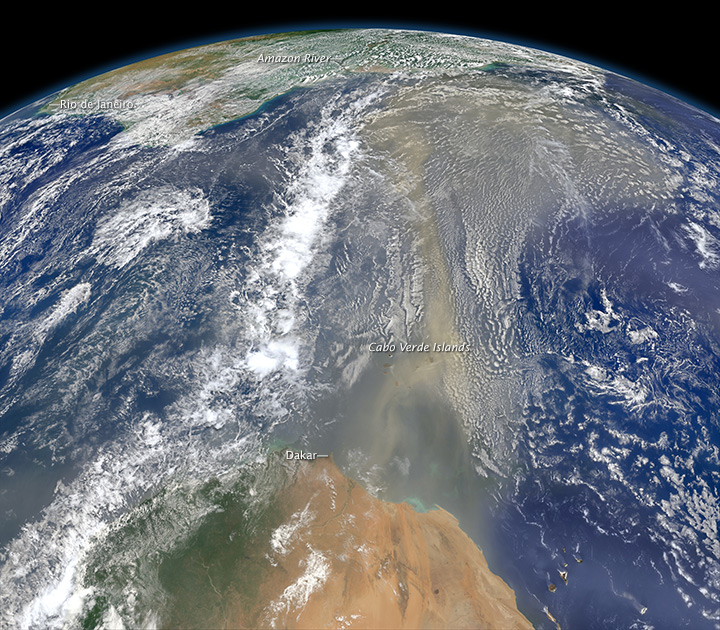 You can view a nice animation of plumage here: http://youtu.be/F3Q8Sh2AjPo
Here is a neat little gif from the end of July to first couple of days into August , where you can see how the dust layer quickly suppresses clouding and convection:

So as are getting more into the Cape Verde Season, we have seen a couple of tropical waves look very impressive coming off the African coast, but only to be blinked out of existence by wave after wave of dry air being swept off of Africa and bulging down from the north.
August 12:

August 14:
The most current wave looks to head NW directly into the SAL, so the NHC is giving it a very low 10% over the next 48hrs and 10% in the next 5 days.
All-in-all, we are waiting to see if the SAL weakens and/or lifts a bit farther north of the ITCZ so that some of these waves don't have that initial stream of dry air to work through.  Even though next week is supposedly the talk right now with many meteorologists, the NHC seems fairly confident that we have an increased chance of a below-normal season at hand for the most part (updated August 7th).  http://www.noaanews.noaa.gov/stories2014/20140807_hurricaneoutlook_atlantic_update.html
Stay tuned for the next SAL-ty Atlantic part of this series as we get deeper into the peak season.