By WeatherFlow meteorologist Shea Gibson on February 22, 2017.
Here we are again with the annual Cannonball Jellyfish update – in February! This year has been quite the anomaly with warmer air temps than normal all the way into late February (4th warmest January on record). Basically, Spring has started to show early this year along coastal SC. And guess what? Our little lumpy friends have shown up early on our beaches as well.
Great article here from the National Phenology Network on the early spring anomaly using "first leaf outs" and accumulated air temps: https://www.usanpn.org/data/spring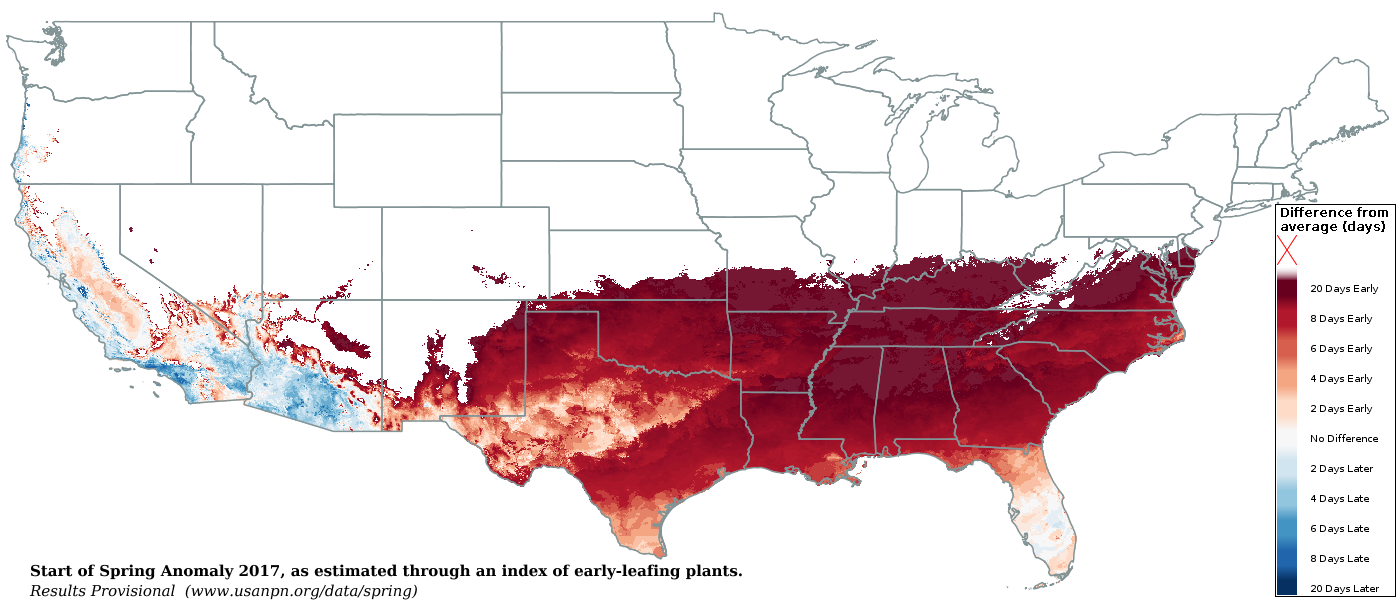 Here are the past Cannonball Jellyfish arrival dates and blogs:
* 2014: Late April to early May as Sea Surface Temps rose to upper 60's low 70's. https://blog.weatherflow.com/cannonball-jellyfish-signify-the-end-of-marine-layering-along-sc-coast/
* 2015: April 11/12th first sightings during a quick surge of Sea Surface Temps to low 70's. https://blog.weatherflow.com/gulf-stream-surge-brings-the-cannonballs-back-early-in-2015/
* 2016: Middle of March first sightings with Sea Surface Temps in the middle 60's. https://blog.weatherflow.com/cannonballs-fire-the-first-warming-shot/

For the record, Sea Surface Temps from February 15th to present (Feb 22) have been roughly 57-60°, which is warmer than normal for this time of the year. This is also 5-6 degrees cooler than past years with their arrival.
Here is the current Sea Surface Temp loop from NASA Sport SST from Feb 1 to Feb 21 – notice the slight warm nudge of warmer Gulf Stream water into the coastal shelf waters along GA to our south.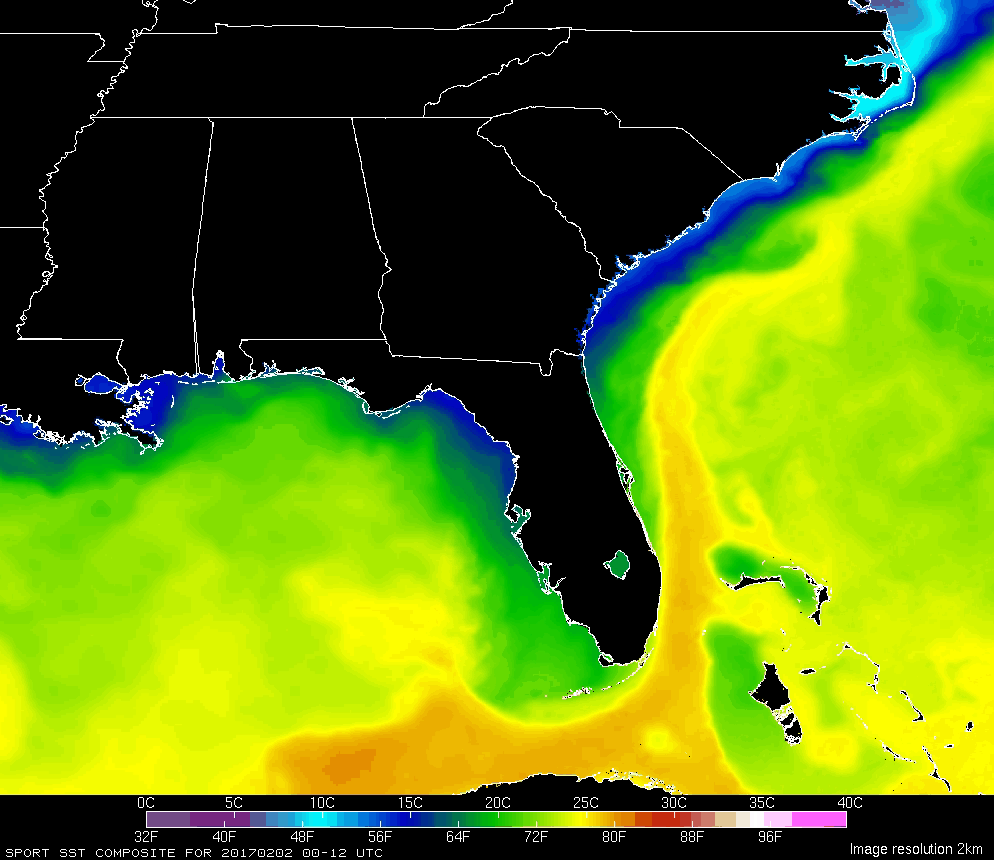 Feb 15 SST: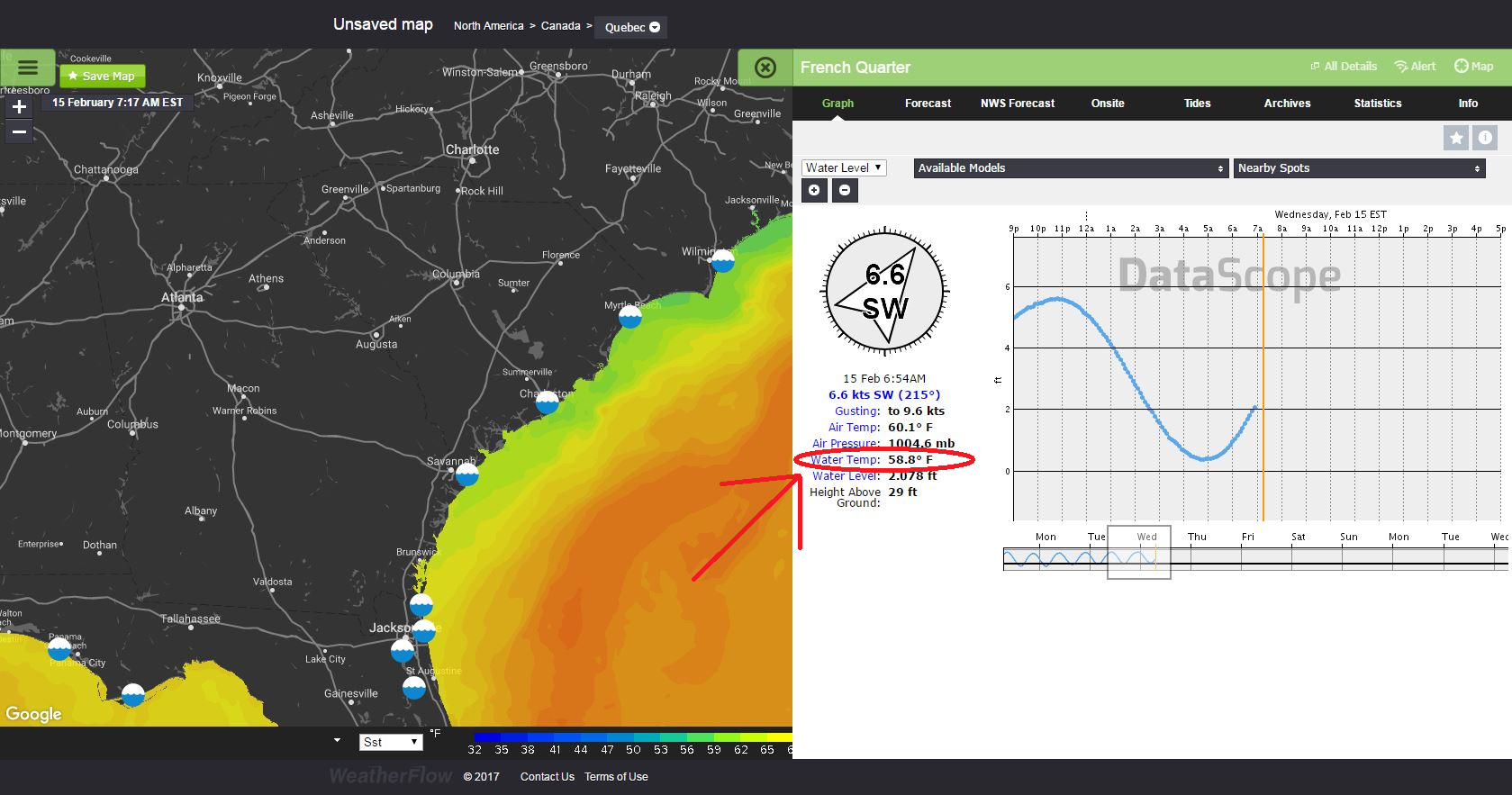 This pic of Cannonball Jellyfish was taken on February 17, 2017 at Edisto Beach, SC by Kevin Verbrugge via Twitter: https://twitter.com/SurfFisher48/status/832699739590246400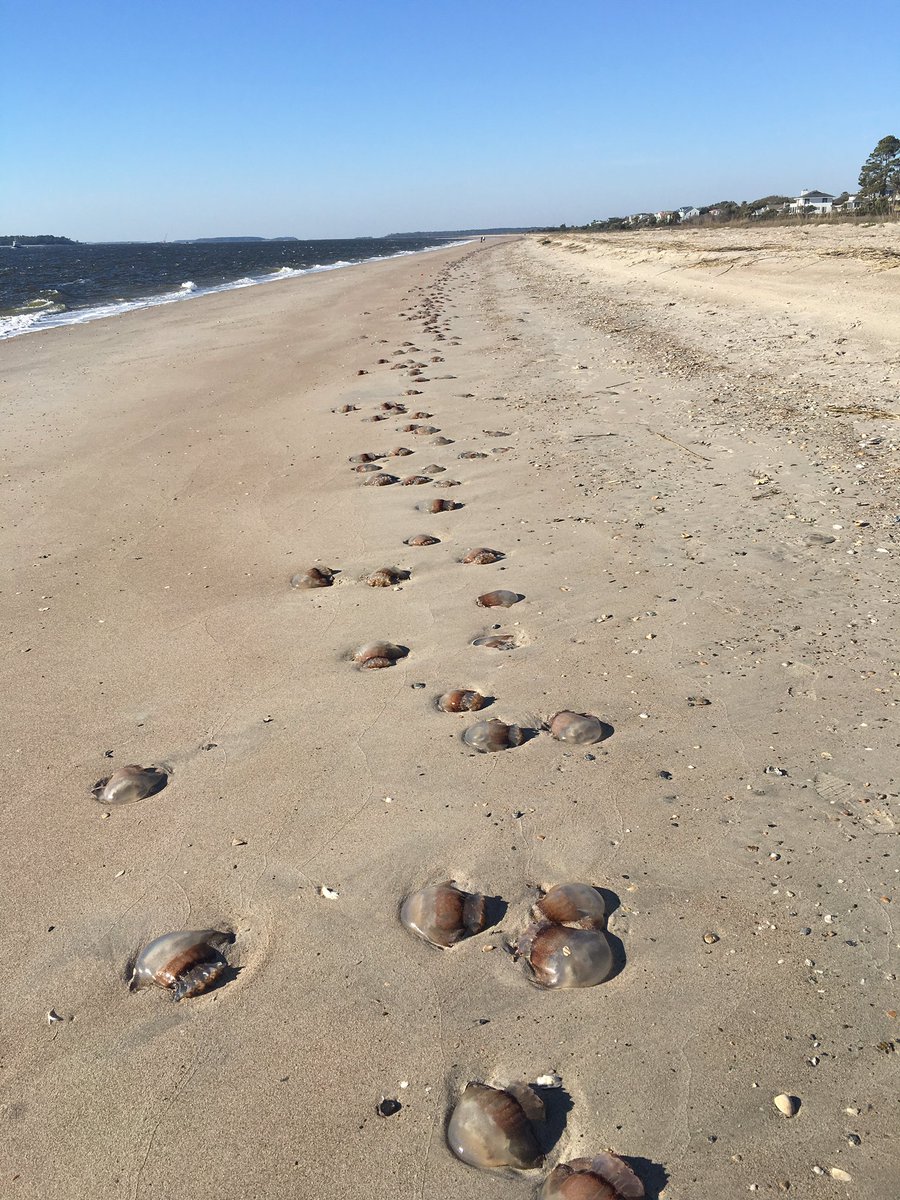 Another pic of one at Isle of Palms on February 20, 2017 provided by Justin Gern via Twitter: https://twitter.com/justingern/status/833674489217032192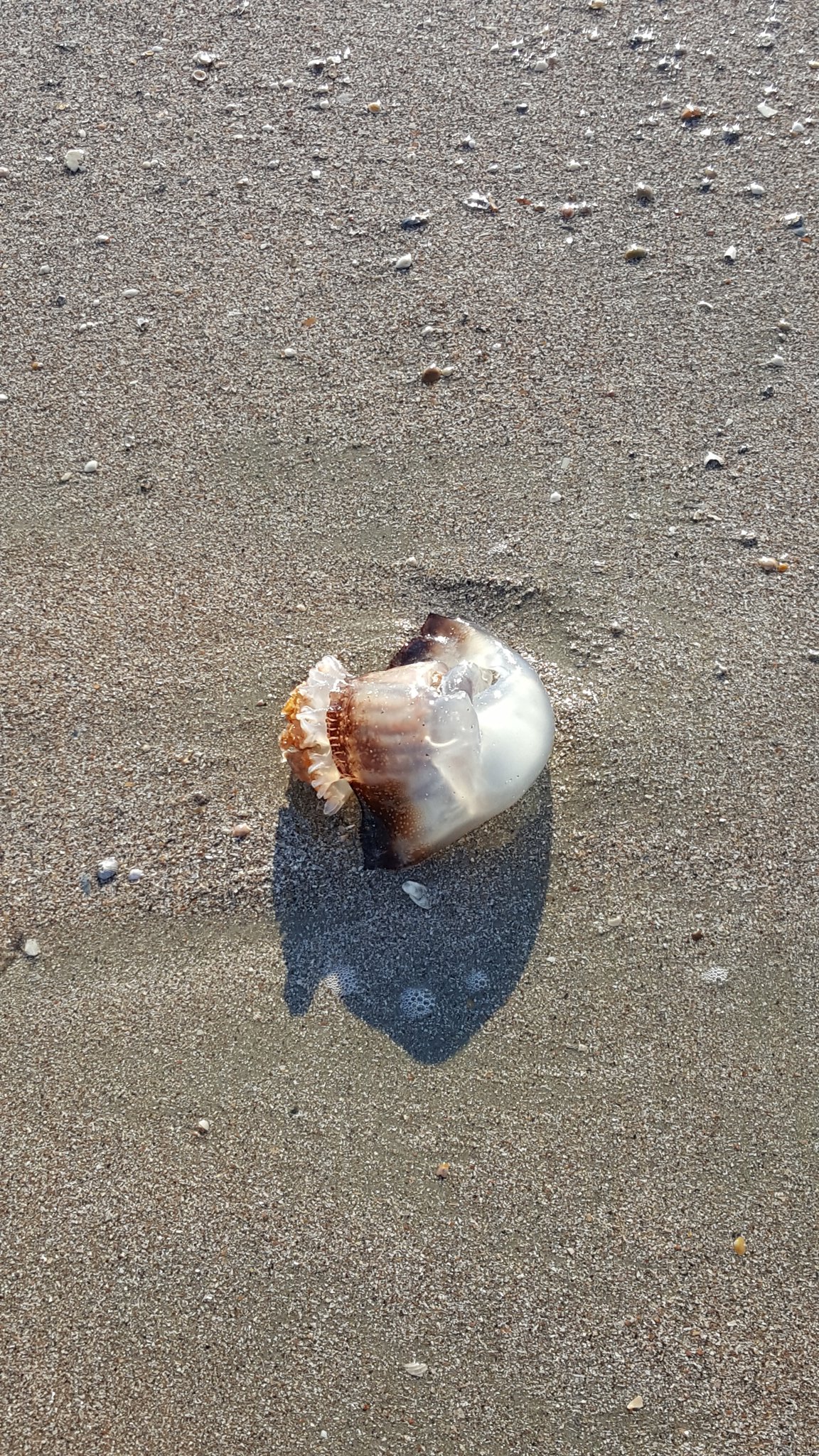 And a Mushroom jelly from Charleston local Cacky Rivers Vlcek via Instagram/ Facebook: https://www.instagram.com/p/BQQwrfHAUba/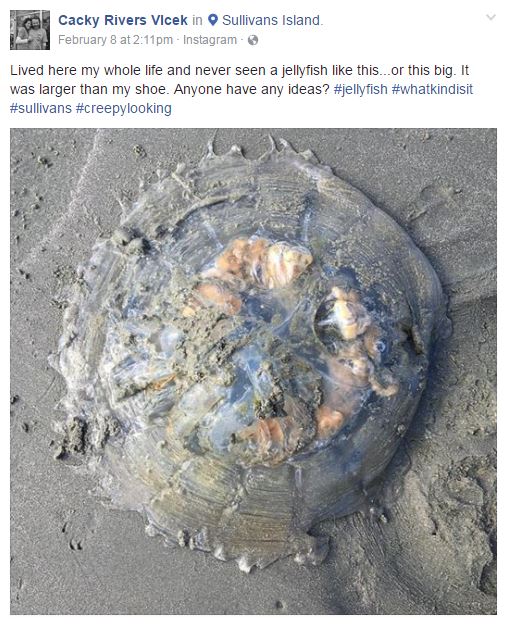 So why did this happen early this year?
We have seen a succession of Bermuda and Bahamian High pressure setups create systematic moderate S/SW flows, which coupled with cooler shelf waters this time of the year brings the Cannonball jellies and Mushroom jellies up the coast.
Here is a Bahamian High setup from Feb 17, which helped to push the jellies northwards sooner.  Source: Levi Cowan of Tropical Tidbits.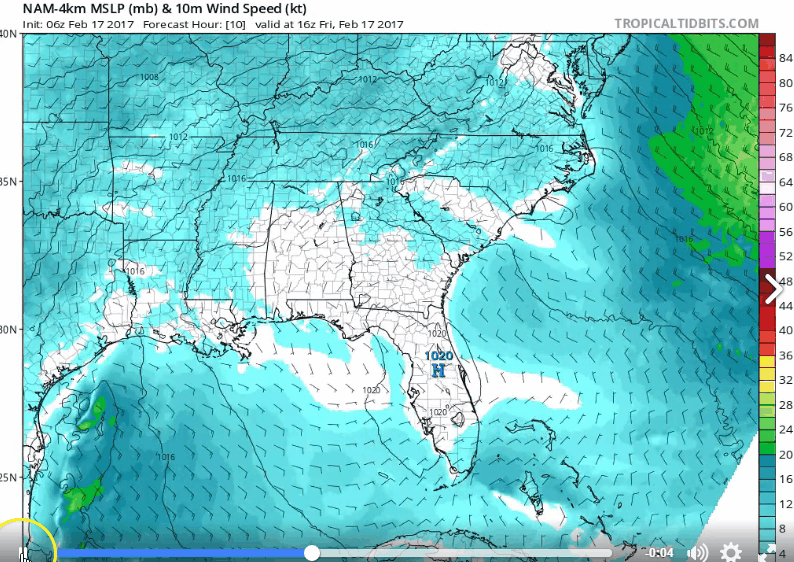 We typically see these Highs setup to the north along the mid Atlantic with moderate to strong NE/ENE winds which keep them suppressed to the south (a weak La Nina transitioning into a ENSO Neutral phase has quite a bit to with this pattern).
Also, we have seen our coastal Sea Breezes remaining moderate to the barrier island beaches due to high air temps remaining mild and allowing for beach coupling (land-sea interface coupling). Here is a good example from this past Friday, Feb 17, 2017 where Isle of Palms showed a solid moderate build in the afternoon.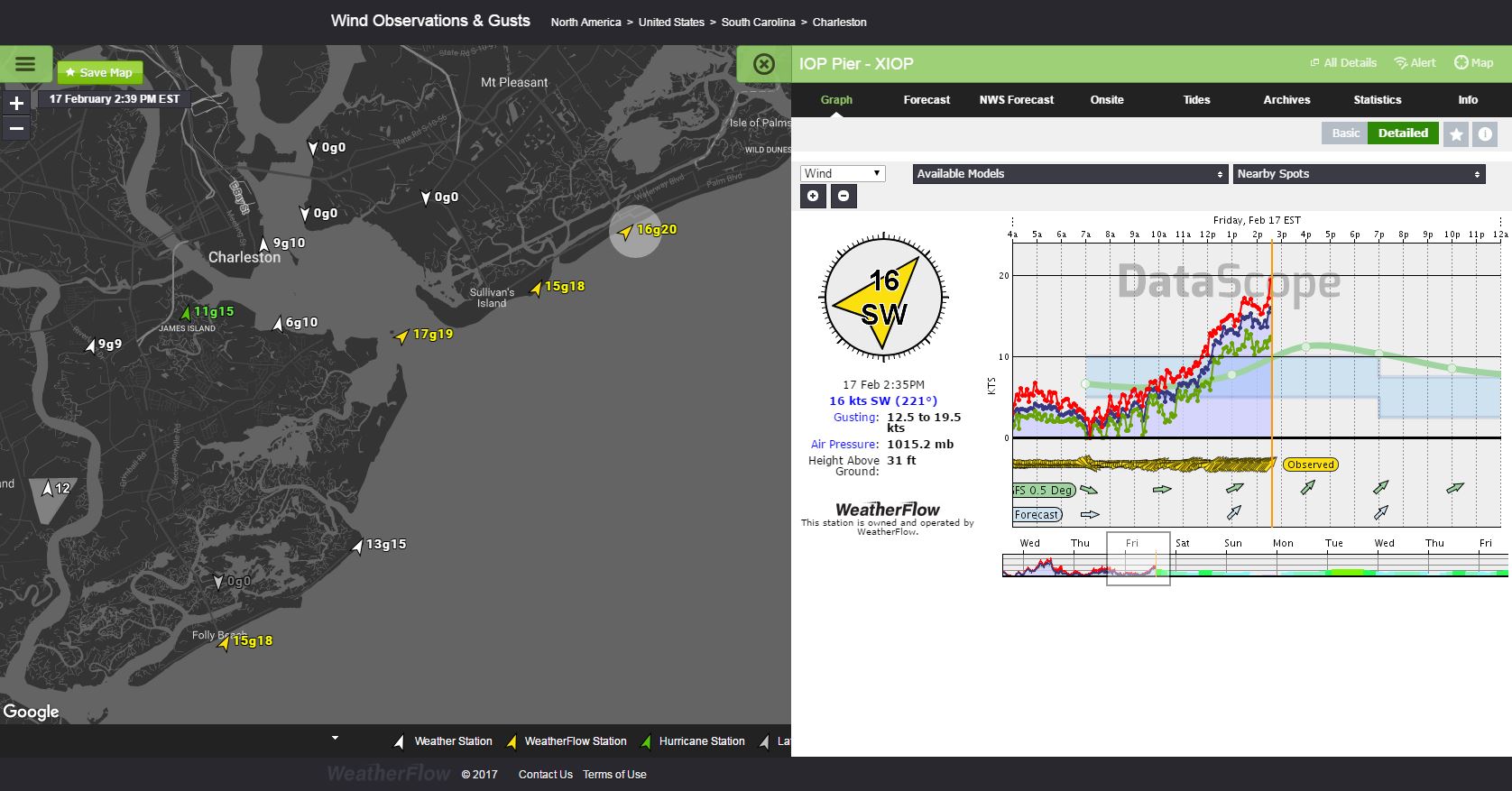 "At the surface", it certainly appears that the jellyfish have brought the Sea Breezes back to the beaches early this year. However, don't be so quick to assume it will remain the norm. Once air temps surge into the 80's again over the next few months, we'll see the marine layering (much weaker speeds to beaches) show until the SST's warm up to at least the mid to upper 70's.
All in all…we are ~20 days ahead of schedule for spring with Sea Surface Temps holding just above normal. Looks like we will continue with a mild climate right through Meteorological Spring (March 1st) and into the Spring Equinox (March 20 at 6:29AM EST). Here is s quick glimpse of the 16 day air temperature forecast for inland Charleston via our friends at WeatherBell Analytics: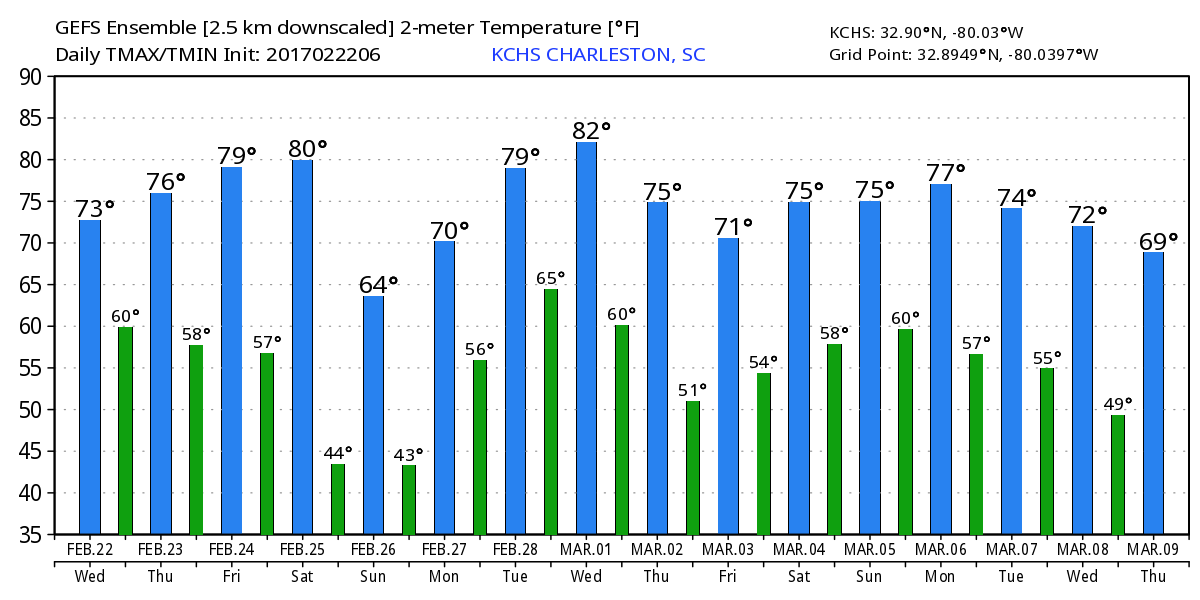 Until next year……
Cheers!
Shea Gibson
WeatherFlow Meteorologist/Wind Forecaster
Outreach & New Station Projects
SE Region/East Coast
Twitter: @WeatherFlowCHAS
Sources: National Phenology Network, NASA Sport SST, Justin Gern – Twitter: @justingern, Kevin Verbrugge – Twitter: @SurfFisher48, Cacky Rivers Vlcek via Instagram/ Facebook: https://www.instagram.com/p/BQQwrfHAUba/, Tropical Tidbits, WeatherBell…and our own professional WeatherFlow DataScope viewer.