Baja Forecast and Guide Links: 
Home  | Daily Human Forecast | Why Baja blows | Feedback: Baja forecast | | Road Rules |  Driving Down | Where to go. | | Food & Water | Camping| Resorts | Money, insurance, pets | Hurricane Diary | Windless days | East Cape driving maps | Fish/Surf | Baja photos |
Most of the eastern Pacific hurricanes run up the coast of mainland Mexico then turn into the Pacific without impacting Baja. But as the imagery below shows some do track up the Baja coast and impact townd, roads and the kite and windsurfing sites. This diary kept by Chris and Annie documents what is like to be camping near the path of a hurricane. In this case it was hurricane Nora that passed near the wave mecca of Punta San Carlos.
DAY FOUR OF TRIP
UPDATE BY: CHRIS – No A.M. wind. Hike the mountains with Annie after coffee and muffins- and end up at the rock beach by airstrip. Surf the

Stewart longboard with Dale and Annie at Bombora. Fun drops then a long slow ride to the gap. More wind at the point than up here. Watched Dale sail the Fanatic surf/sailboard. Another feast with BBQ lobster, tri-tip ala Kevin. Lunch was an epic Luis special – corvina ceviche. Watched Marc's TV and weather channel tracking the big hurricane (Nora). Where will it hit? No one knows, but Marc is packing it up! He has been here since early August and was leaving soon anyway.
UPDATE BY: ANNIE – Surfing wasn't very easy, but once in a while I was rewarded with a gliding ride. Chris had his eye on the larger sets at the Bombora and sensing his need for more challenging conditions I said I'd paddle out with him. At the Bombora he would move deep into the shoulder as it jacked up, well overhead and take off deep+steep, riding what seemed like a quarter of a mile into shore. I was too chicken to take off on the Bombora wave so I paddled back to the former spot and surfed on my own for a while. Later in the evening huge cumulus clouds gathered east of us on the shore and a light show of thunderbolts went off. I was feeling a bit scared and asked a lot of questions about storms in San Carlos, (eg. that couldn't be the hurricane could it?!) many questions unanswered or with a general "no cause for alarm" attitude. I began to feel like the overreacting female.
Meanwhile, NWS HURRICANE WARNING:
AT 5 AM PDT1200ZTHE CENTER OF HURRICANE NORA IS MOVING TOWARD THE NORTH A GRADUAL TURN TOWARD THE NORTH-NORTHEAST WITH AN- INCREASE IN FORWARD SPEED IS EXPECTED DURING THE NEXT 12 TO 24 HOURS. ON THIS TRACK, THE CENTER OF NORA WILL LIKELY CROSS THE EXTREME NORTHERN GULF OF CALIFORNIA AND MOVE INTO NORTHERN SONORA MEXICO AND THEN INTO SOUTHWESTERN ARIZONA LATER TODAY.
MAXIMUM SUSTAINED WINDS ARE NEAR 75 MPH / 120 KM/HR WITH HIGHER GUSTS. ESPECIALLY STRONG GUSTS ARE LIKELY OVER HIGH TERRAIN. WEAKENING IS LIKELY DURING THE NEXT 24 HOURS.
HURRICANE FORCE WINDS EXTEND OUTWARD UP TO 60 MILES 95 KM FROM THE CENTER AND TROPICAL STORM FORCE WINDS EXTEND OUTWARD UP TO 145 MILES / 230 KM.
ESTIMATED MINIMUM CENTRAL PRESSURE IS 985 MB / 29.09 INCHES.
A STORM SURGE OF 3 TO 5 FEET ABOVE NORMAL TIDE LEVELS CAN BE EXPECTED IN THE WARNED AREA PARTICULARLY IN THE NORTHERN GULF OF CALIFORNIA AND THE BAHIA SEBASTIAN VIZCAINO ON THE PACIFIC COAST OF BAJA CALIFORNIA. THE SURGE WILL BE ACCOMPANIED BY LARGE AND DANGEROUS BATTERING WAVES.
RAINFALL TOTALS OF 2 TO 5 INCHES WITH ISOLATED AMOUNTS NEAR 10 INCHES ARE POSSIBLE IN ASSOCIATION WITH NORA. THE RAINBANDS OF NORA ARE MOVING OVER PORTIONS OF NORTHERN BAJA CALIFORNIA
DAY FIVE
CHRIS – Sunny and hot, very light wind. Collect trash with Kevin and Dale of Solo Sports from all of the campers. Talked with Sheldon while Annie surfs. Swell increasing. Peaky waves at Bomby with 2-3′ inside. Fish Camp stop to drop off water barrel for Luis' trip to El Rosario. Chill out with Luis and his homeboys in Luis' crib. Red tide at fish camp. Take Fanatic surf/sail board out to Bombora, caught inside after 2 rides, leash snaps, board on rocks. Dale saves it from total destruction. Damage report. 2 small areas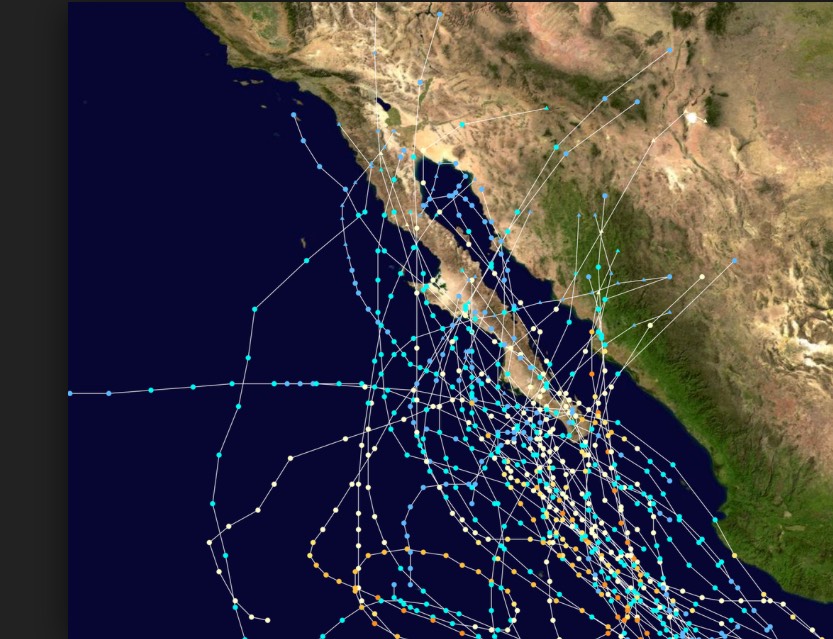 of chipped gelcoat. Then it hits us. A cloud burst front comes down the mountain. We watch a tent roll over the cliff down closer to the point. Our camp handles it well. Pretty soon the sun is out, humidity is up and we're BBQ'ing chicken for dinner, while all the other camps are putting it back together.
DAY SIX
CHRIS – Short A.M. shower, kona winds, swell a bit bigger, full cloud cover. A.M. session at Dale's left with 6-10′ faces. Epic session with Kevin and Dale as wind is El Norte and blowing straight up these mackers. Great waves, great conditions, only three of us in rotation, plenty o' waves for everyone. Mountain bike to rock beach by landing strip with Annie. This beach is exactly like Goat Rock beach at the mouth of the Russian River, but twice as steep and very loud from the rocks getting polished. Afternoon surf with Annie out front. Large stormy waves, lefts and rights, rain starts up again. Another feast, then we all enjoy the cool evening air – oblivious to the night of terror we are about to endure. The wind increases with gusts of 20 to ?. The camp, set up for the prevailing winds, cannot hold up for this bitch of a wind from Nora that is coming in the opposite direction. Two sections of awnings take all the abuse as they peel back in the blasts. Annie and I head for the van and sleep  as it rocks back and forth in the stronger puffs. Kevin and Dale tent it and wake up soggy.
ANNIE – Evening brought increasing fear about the looming storm. The water began to look disorganized and dark and when the strong winds and rain came I opted for moving into the van for the night. Not a wink of sleep, feeling the van rock sideways, making a sick sound with the raging wind and waves making thunder. I woke Chris up all night saying, "I'm scared!" I kept thinking the van was going to fall over or be pushed, sliding in the mud, off the bluff into the angry ocean. I was terrified and the only thing I could think of was seeing my two little boys' faces again. I kept asking "Is THIS THE hurricane?" given answers of "no" or "I don't know". I tried listening to the radio but the only information given was that the hurricane was in Baja. Daylight arrived painfully slow.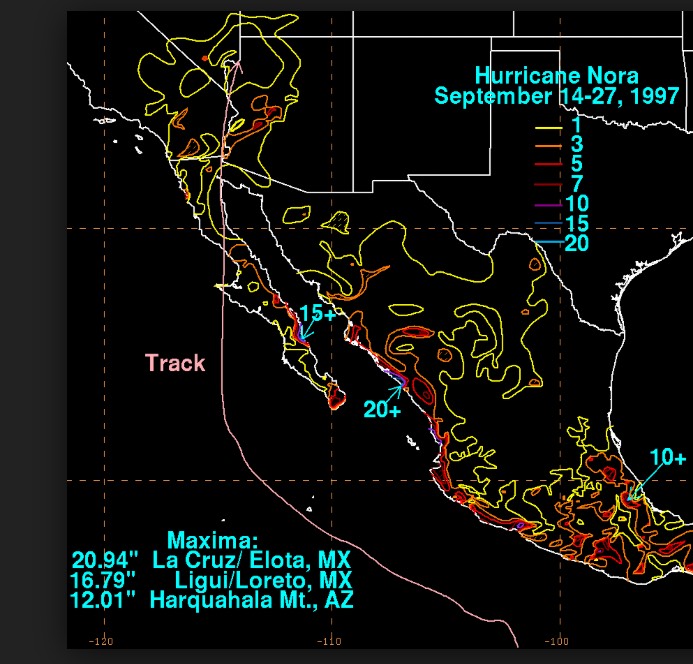 DAY SEVEN
CHRIS – Wow! What a night! Damage report: 2 10X20 awning sections mangled like they were made of wire. Kevin's tent rod snapped forcing him into a back up tent. A few lobster traps pushed by the surf with the shorebreak. Fishermen from the fish camp reported news of winds up to 80mph during the night and that a few fishing shacks were flattened. The surf is another notch larger and lumpier than yesterday, wind is side-off and howling. Spray off tops of waves is spectacular. Quick drive around to check on all the campers. The driving is almost impossible on even the flattest ground as the mud beneath sucks the tires in. Hope this rain stops soon so the road will dry out in time for us to travel it. Everyone OK and holed up. It continues to rain lightly. Driving is tricky at best, Nora is here to party. Annie heard radio reports that the storm is heading inland over central Baja, then up towards Phoenix and Tucson. Rain continued 'til noon then stops, blue sky visible over the ocean to the south and west. The swell is HUGE at the Bombora with 15-20′ faces closing out. We watch in amazement. Dale and I surf out front, some fun head high peaks, steep drops and fast sections. Dale redeems himself with a late take off on a critically vert, overhead right barrel-does he make it? ASK DALE? Ribs on the BBQ after a hike up the mountain to the cross (Nora had blown it over). Early to bed still a little soggy), we are all tired from the previous night.
ANNIE – So happy to see daylight. Throughout the evening the howling wind had switched from NE to NW and I heard radio reports that the hurricane was going to arrive in Arizona by nightfall. Again I asked the questions, "So Was THAT THE hurricane? It sure felt like one!" With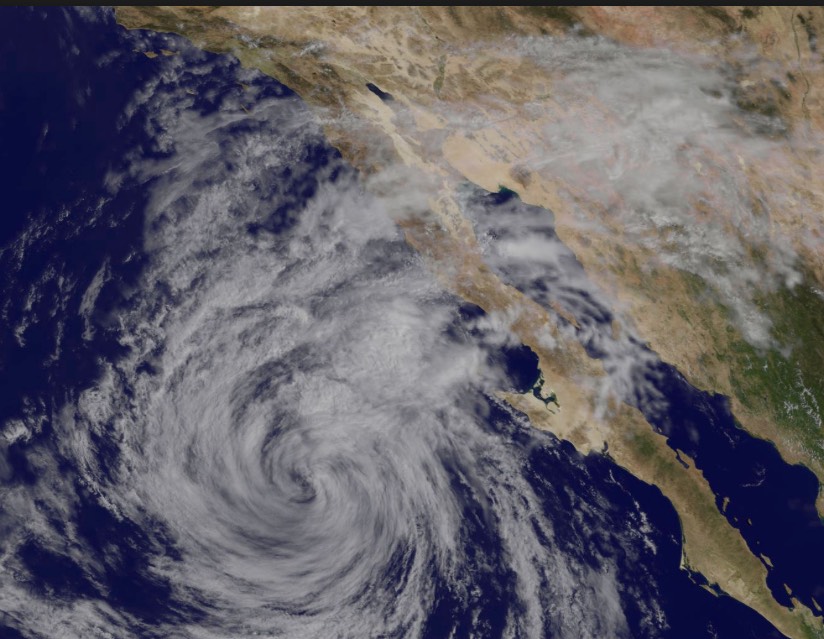 responses of "NO, NO the hurricane was 100's, maybe 200 or 300 miles from here!" At that point I began to trust my own feelings. Later in California we found out that the hurricane passed directly over us and that San Carlos was within 20-50 miles of the eye. Light on the Bombora revealed double mast high waves. From my limited experience, I couldn't exactly tell the size of them, but was told that they were double-mast high and could inflict significant damage. Too exhausted to attempt surfing out front in overhead conditions I biked to the point observing the beauty of surging volumes of water pushing their way into the Chili Bowl. It was good to be alive and I felt like crying.
DAY EIGHT
CHRIS – Clear A.M. light tradewinds, surf is still huge, but a little cleaner. The Bombora is whitewater, the inside = a nightmare. Coffee and bagels and we're off to check out the surf. The fish camp right is going off. Dale, Kevin and I score another epic session. Unlike the rides at Dale's Left these are endless waves with sections that jack completely covering you for moments them spitting you out down the line. This session and the one at Dale's Left rank as the two on the top of my list for larger surf.
-Lunch and rig for sailing. Me on 5.5, 9'1″ Blair, Annie 4.5 Ezzy, 8'3″ Mistral. Very light inside, powered on the outside, but mast high Bombora waves keep you in check – no going out there – certain disaster!! Inside is pretty big, too – not easy for some. We take a break and watch the action, then Solo camp gets the 911 call. Can we help the lady with the gaping leg wound? They bring her over and every one scrambles around, luckily Solo Sports 1st Aid kit is loaded. 10 stitches are placed in her outer right thigh. The wound was as deep as it was long 3 1/2″. Surgery lasts 1-2 hours, Annie is my assistant and moral support. Julie is taken by her friends to San Diego for further help. The camp quiets down. Last dinner in camp with Luis. Early to bed, early to rise – one more day. Injuries reported in all the camps – this has been a difficult day for some.
ANNIE – I assisted Chris in the surgery, having assisted him many times at the dental office. She was allergic to the available antibiotic and so getting her to a hospital in the States was important. Julie's main concern was for her friends to be able to stay on and sail, instead of transporting her to a hospital in the U.S. Kevin quickly offered transportation as well. Kevin takes care of everyone – a guy with a huge heart. That evening Julie and her friends blasted off for the U.S. Later, when I was told what her name was, I remembered reading in the recent windsurfing Magazine that she won the Gorge Pro Am, San Francisco Bay Pro Am, and 2nd in the US Open.